10 HAL YANG TIDAK BOLEH DILUPAKAN TENTANG AKI INCOE
10 THINGS TO REMEMBER ABOUT INCOE BATTERY
Praktekkan 10 hal dibawah ini pada Aki INCOE anda.

1. Perhatikan selalu kondisi air aki INCOE Premium atau aki INCOE Gold anda. Pastikan selalu berada di antara batas lower dan upper level.

2. Untuk mencegah mobil over charge atau under charge, pastikan pengisian mobil selalu dalam kondisi baik.

3. Sediakan selalu kabel jumper di mobil, untuk berjaga-jaga kalau sewaktu-waktu aki drop.

4. Sesekali periksa kepala aki. Pastikan selalu terpasang kuat

5. Gunakan kacamata dan sarung tangan pelindung saat menangani aki. Asam sulfur dalam aki bisa mengakibatkan luka bakar dan kebutaan.

6. Jangan gunakan aki di tempat dekat api. Aki bisa menghasilkan gas hidrogen, kesalahan penanganan bisa berakibat ledakan.

7. Jangan gunakan air mineral atau air ledeng untuk menambah cairan aki. Pastikan hanya memakai air suling yang tidak mengandung unsur logam.

8. Jangan menguras cairan elektrolit atau accu zuur kalau daya kerja aki mulai menurun. Cukup disetrum aja.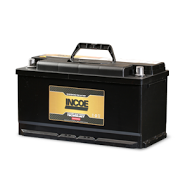 10 Things to Remember About INCOE Battery :

1. Always check the water level of your INCOE premium type battery. Make sure to always keep the water level in between lower and upper levels.

2. In order to prevent over charge or under charge, make sure the car electricity recharge (alternator) is always in good condition.

3. It is recommended to have a jumper cable ready in your car, just in case if the battery drops.

4. Occasionally check the battery terminal. Make sure it is always installed firmly.

5. Use sunglasses and protective gloves when handling battery. Sulfuric acid inside the battery can cause injuries and blindness.

6. Do not use battery nearby fire. The battery can produce hydrogen gas, mismanagement can result in an explosion.

7. Do not use mineral water or tap water to increase battery acid level. Make sure to use only distilled water that does not contain metal elements.

8. Do not drain the electrolyte acid if the battery performance begins to decrease. Just recharge.